Drug candidate
Our primary asset for drug development is recombinant human HGF ("HGF protein"), and we are conducting clinical trials on HGF protein with several diseases.
HGF was initially discovered in Japan as a growth factor for hepatocytes. Growth factors are endogenous proteins that transmit signals to the nuclei (genetic material) of cells by binding to receptors on the cell surface, thereby turning on the switch that initiates cell proliferation. Because HGF is a naturally occurring substance that functions in the human body, the ability to artificially manufacture it in the form of recombinant human HGF protein will likely open the door to a new range of safe and effective pharmaceuticals.
Characteristics of HGF (Hepatocyte Growth Factor)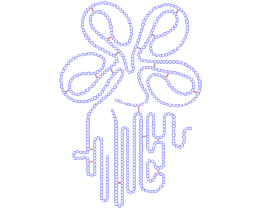 A protein discovered in Japan that is endogenous to the human body
Relatively large molecule of 692 amino acids
Complex structure (called Kringle structure: origin of the company name), 19 intramolecular disulfide cross-links
Multiple biological functions
Protects, regenerates, and repairs tissues and organs
Mechanism of action of HGF (Hepatocyte Growth Factor)

Subsequent studies have shown that HGF has multiple biological activities other than cell proliferation, and that it is effective not only for hepatocytes but also for cells in the kidneys, lungs, skin, and other organs. In particular, since its action of releasing fibrosis or sclerosis, in which cell functions are impaired due to the accumulation of fibrous components, and its biological activities on nervous cells such as neurons and glial cells were demonstrated, various research results have been reported for HGF as a potential therapeutic agent for several intractable diseases.
Development pipelines
Clinical trials of HGF protein underway for multiple target indications

Late-stage pipeline

(Phase III: two studies, Phase II: one study)

Resources devoted to development in acute phase spinal cord injury, vocal fold scar and ALS
We have four pipelines that have progressed to clinical trials, acute phase spinal cord injury, vocal fold scar, amyotrophic lateral sclerosis (ALS), and acute kidney injury, while our partner, Claris Biotherapeutics, is conducting one clinical trial for an ophthalmic disease. Several other programs are in the basic research stage. Currently, our focus is on the acute phase spinal cord injury program, the most advanced pipeline, and we are concentrating our resources to obtain regulatory approval in Japan.
Priority
Target indication
Development stage
Clinical trial
Application approval
Marketing
Phase I
Phase II
Phase III
1
Acute Spinal Cord Injury (Acute SCI)
-Phase I/II (double-blind, placebo-controlled study) completed with proof-of-concept clinical data
-Orphan drug designation obtained
-Phase III (nonrandomized, confirmatory study) ongoing in Japan

Completed

Ongoing

2
Vocal fold scar
-Phase I/II (open-labelled, dose escalating, investigator-initiated study) completed in Japan
-Phase III (double-blind, placebo-controlled study) ongoing in Japan

Completed

Ongoing

3
ALS
-Phase II (double-blind, placebo-controlled, investigator-initiated study) completed in Japan.
-No statistically significant difference in primary and secondary endpoints.
-Additional analyses are planned.

Completed

Completed

4
Acute kidney injury
-Phase Ia and Ib (single and repeated dosing study) completed in the U.S. -Searching for a partner

Completed

Searching
for a partner
* LPO : Last Patient Out
** FPI : First Patient In
As of Aug 2023
Kringle Pharma's growth strategy
We have two strategic pillars of business growth. The first is to have our own products. Our basic policy is to develop drugs for rare diseases and secure marketing approvals on our own, aiming to maximize value in the mid to long term. Spinal cord injury and vocal fold scar pipelines fall into the first pillar. The second is to expand globally. We develop innovative drugs for intractable diseases for which there are significant unmet medical needs. They should serve patients suffering from those intractable diseases not only in Japan but also around the world. We will be able to accelerate our growth by gaining overseas partners and reaching out to global markets as soon as possible.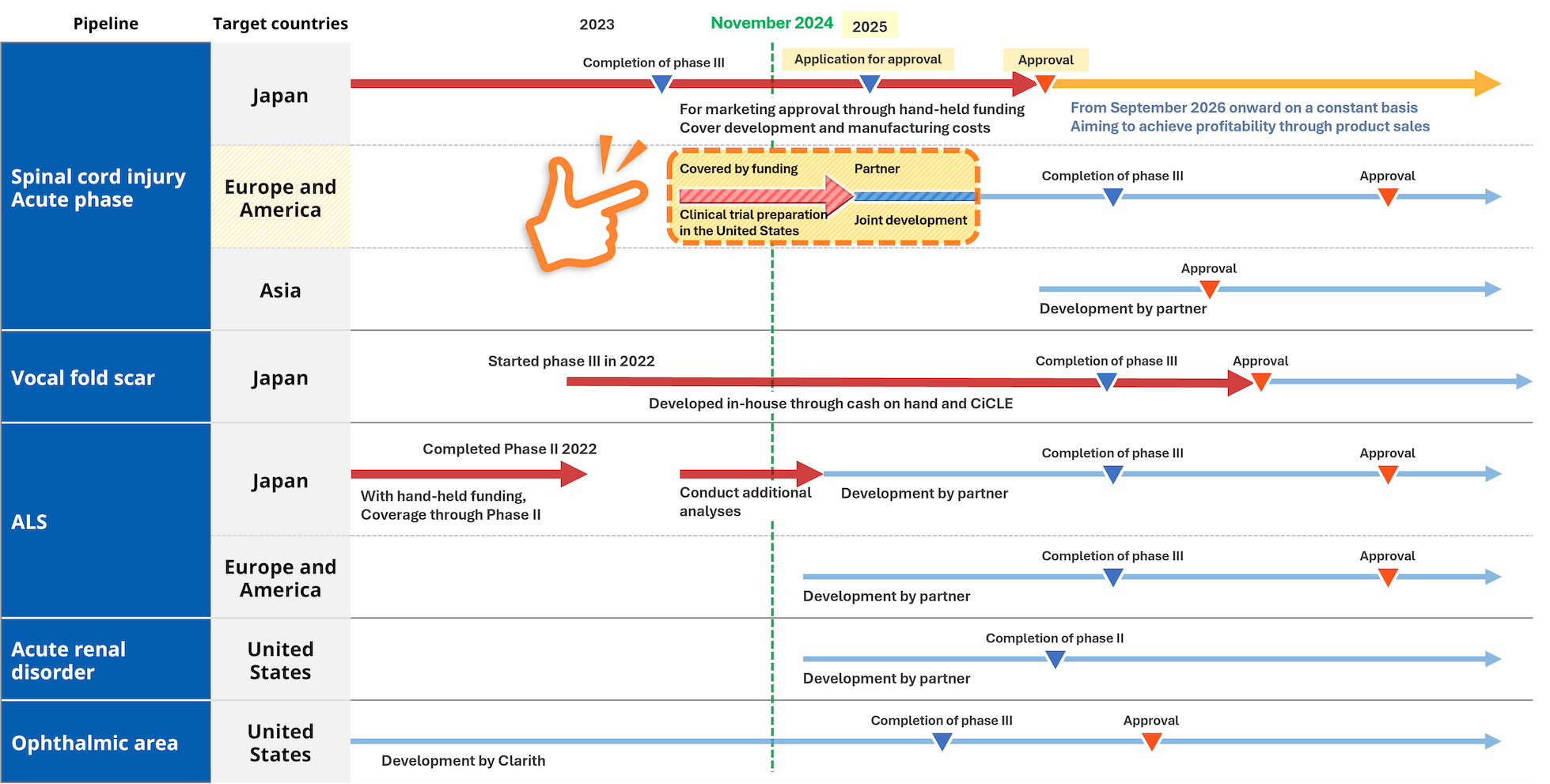 * This is an overall plan, and there is no guarantee that the development will progress as shown in this graph.
Joint research with academia:
Pioneering new markets for novel regenerative treatments
In order to become a full-fledged biopharmaceutical company and achieve sustainable growth, while we promote our pipeline development, we actively engage in joint research with academia (universities, etc.) to pursue further potential of HGF proteins. Japanese academia has a broad range of excellent seeds and technologies related to regenerative medicine. By combining these with HGF protein, we aim to identify innovative drug candidates for regenerative medicine that will pave the way for the future new market.
Professor Hideyuki Okano
Department of Physiology, Keio University School of Medicine
Professor Masaya Nakamura
Department of Orthopedic Surgery, Keio University School of Medicine
Development of optimal next-generation therapies for the acute, subacute, and chronic stages of spinal cord injury
Combination therapy of iPS cell-derived neural stem/progenitor cells and HGF protein
Professor Shigeru Hirano
Department of Otolaryngology-Head and Neck Surgery, Graduate School of Medical Science, Kyoto Prefectural University of Medicine
Clinical development for vocal fold scar
Research on the mode of action for the treatment of vocal fold scar and the next-generation treatment strategy
Professor Masashi Aoki
Department of Neurology, Course of Neuro-sensory Pathology, Graduate School of Medicine, Tohoku University
Clinical development in ALS
Professor Ryuichi Okamoto
Department of Gastroenterology, Graduate School of Medical and Dental Sciences, Tokyo Medical and Dental University
Clinical research on regenerative medicine using autologous intestinal epithelial stem cell transplantation
Use of HGF protein in the preparation of intestinal epithelial organoids for transplantation therapy
Professor Yasuhiko Tabata
Institute for Life and Medical Sciences, Kyoto University
Search for optimal and effective next-generation regenerative therapies for target diseases
Combination of biomaterials and HGF protein
Professor Kunio Matsumoto
Cancer Research Institute of Kanazawa University
Research on next-generation manufacturing methods for HGF protein
List of research and development