What is ALS?
ALS is a symbolic neurological disease designated as an intractable disease. ALS causes gradual loss of body movement due to degeneration of the motor neurons. In Japan, there are approximately 10,000 patients suffering from ALS. ALS can be triggered by various causes such as genetic factors or glutamate toxicity, but some causes remain unknown. However, a common thread that runs through the disease is muscle atrophy caused by motor neuron impairment and loss. For this reason, protection of motor neurons may have a beneficial therapeutic effect on the disease. Accordingly, as HGF protects neurons and promotes the extension of axons in spinal cord injury, it has a potential to similarly prove effective as a treatment for ALS.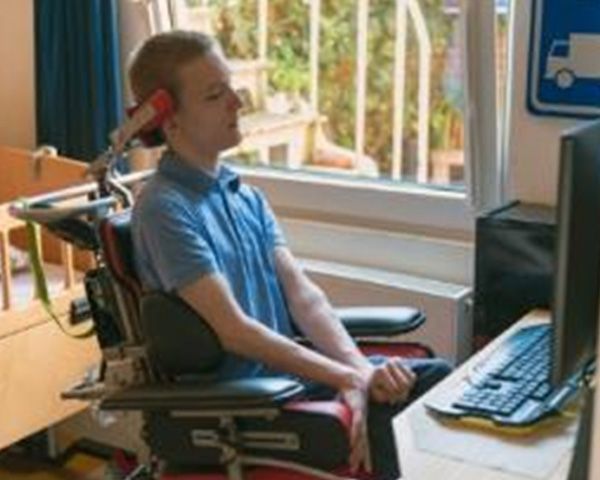 A progressive neurodegenerative disease that destroys motor neurons. Its causes are largely unknown.
Number of patients*: 9,800 in Japan, 85,000 in developed nations
More than 80% of patients die within 3 to 5 years**
Some 10% of patients develop ALS as an inherited condition**
Onset of the disease ranges from the ages 30 to 80s (peak age: 65 to 69 years)**
Existing treatments have limited therapeutic effects
Significant health economic implications for patients and caregivers
*

Source: Number of holders of the specific medical expenses (for designated intractable diseases) recipient certificate in FY2018, Arthur et al. Nat. Commun. (2016)

**

Source: Japan Intractable Diseases Information Center website, the Japan Amyotrophic Lateral Sclerosis Association website, Sanofi LIVE TODAY FOR TOMORROW website
Mechanism of action of HGF in ALS
In a collaborative study with the Department of Neurology of the Tohoku University School of Medicine, we conducted tests to identify the pharmacologic effects of recombinant human HGF using an animal model of ALS. The administration of HGF was confirmed to be effective in several parameters including restoration of motor function, delay in ALS onset, and increase in survival. Additionally, we conducted preclinical toxicity and pharmacokinetic studies necessary for drug development and progressed to the open-label, dose-escalation Phase I trial.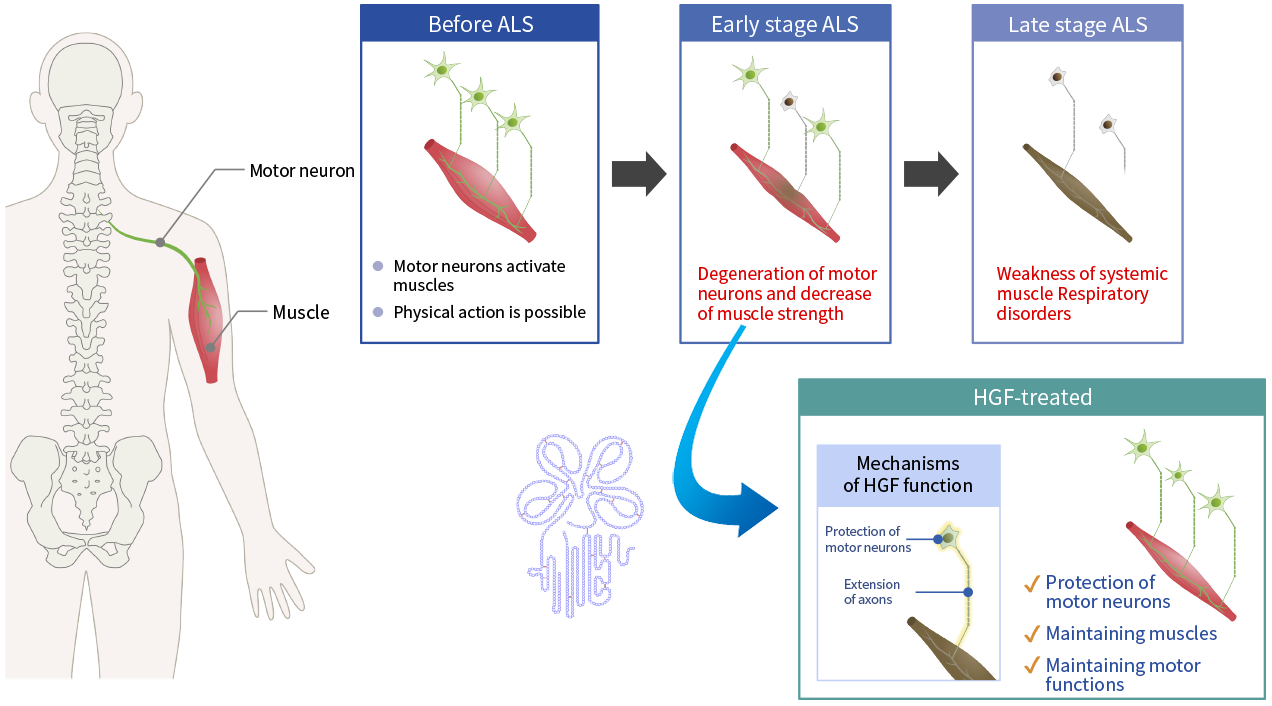 Summary of Phase I study in ALS (completed)
Study design
Open labeled, dose escalation, single site study, Single dose: 3 groups, Repeated dose: 2 groups (3 subjects each group)
Patient population
ALS patients within 3 years of onset of the disease, whose ALS severity grade is 1 or 2, Patient's age was ≥20 years and <65 years
Dosage and administration
Intrathecal administration through a catheter and subcutaneous port, Single dose: 0.2, 0.6, 2.0 mg/person, Repeated dose: 0.6, 2.0 mg/person, once a week, 5 times
Primary endpoint
Evaluation criteria
Safety and tolerability
Results
A single and repeated doses of KP-100 were safe and well tolerable.
Secondary endpoint
Evaluation criteria

Pharmacokinetic profile
Presence/absence of anti-KP-100 antibody production

Results

KP-100 was not considered to accumulate after repeated dosing. Plasma KP-100 concentrations were very low, or below the lower limit of detection at all time points of measurement.
Anti–KP-100 antibody was not detected in the cerebrospinal fluid or plasma specimens from any of the subjects throughout the KP-100 dosing period.
Regarding the safety and tolerability as primary endpoints of this study, no serious adverse events were occurred, and the HGF treatment was shown to be safe and well tolerated. Furthermore, as a secondary endpoint, drug pharmacokinetics were analyzed to determine the appropriate dose. The results provided information about the dosing regimen required to examine the efficacy. These results have been published in an international medical journal, the Journal of Clinical Pharmacology (Warita et al., 2019).
Based on the findings noted above, we are currently conducting double-blind, placebo-controlled Phase II clinical trial for verifying the POC. An overview of the Phase II clinical trial in patients with ALS is shown in the table below:
Phase II study in ALS (investigator-initiated clinical trial)
In this investigator-initiated clinical trial, Kringle Pharma supplies the investigational drug, holding exclusive rights to commercialize the product after completing the trial.
Study design
Placebo-controlled, double-blind, parallel-group study
Enrollment
46 subjects (HGF-treated group: 32 subjects, placebo group: 14 subjects)
Patient population
ALS patients aged 20 and over, up to age 70 (severity grade 1 or 2)
Dosage and administration
Intrathecal administration of investigational drug through a catheter and subcutaneous port.
Every two weeks for 24 weeks (double-blind phase) + 24 weeks (continuous phase)
Primary endpoint
Change in ALSFRS-R*1 score at 24 weeks in the double-blind phase
Investigation sites
Tohoku University Hospital, Osaka University Hospital
Data analysis (preliminary, released on August 12, 2022)
No statistically significant difference in the primary endpoint
No statistically significant differences in the pre-specified secondary endpoints
Further detailed analysis is needed to interpret the results of this study, as slowing of the disease progression was observed in some cases in the HGF-treated group.
Perform additional analysis
Glossary of Terms and References
Term
| Terminology | Definition |
| --- | --- |
| ALS severity grade | The severity of ALS is defined by the Ministry of Health, Labour and Welfare's research and investigation of specific diseases. There are five severity grades ranging from mild (1) to severe (5). |
| ALSFRS-R score | The ALSFRS-R measures 12 aspects of physical functions from ALS patient's daily life, each function scored on a 5-point scale from 0 to 4. |
References
Sun W, Funakoshi H, Nakamura T. Overexpression of retards disease progression and prolongs life span in a transgenic mouse model of ALS. J Neurosci. 2002;22:6537-6548
Ishigaki A, Aoki M, Nagai M, Warita H, Kato S, Kato M, Nakamura T, Funakoshi H, Itoyama Y. Intrathecal delivery of hepatocyte growth factor from amyotrophic lateral sclerosis onset suppresses disease progression in rat amyotrophic lateral sclerosis model. J Neuropathol Exp Neurol. 2007;66(11):1037-1044
Warita H, Kato M, Asada R, Yamashita A, Hayata D, Adachi K, Aoki M. Safety, Tolerability, and Pharmacodynamics of Intrathecal Injection of Recombinant Human HGF (KP-100) in Subjects With Amyotrophic Lateral Sclerosis: A Phase I Trial. J Clin Pharmacol. 2019 59(5):677-687.